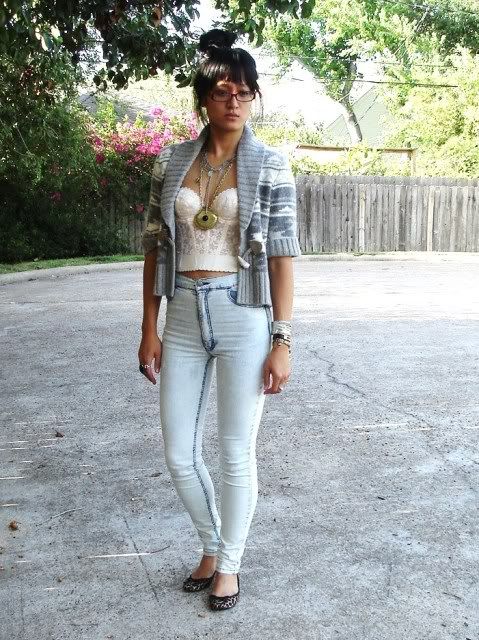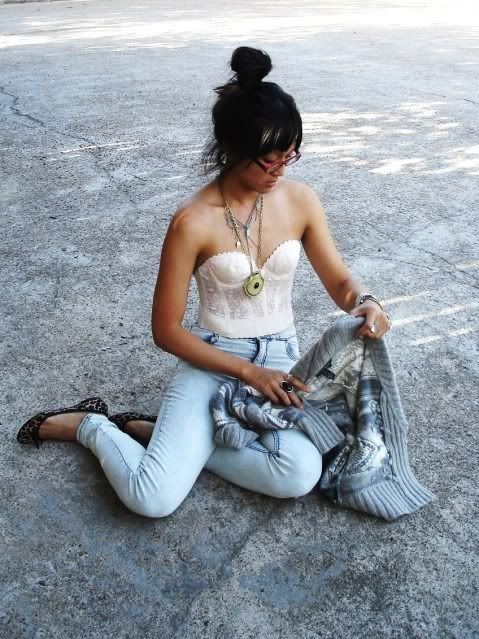 (Ralph Lauren cardigan, Value Village bustier, Cheap Monday jeans,
Steve Madden leopard flats, Hecho a Mano necklace)


I was in search of a (1) bustier a couple of weeks ago. It happened to be a 50% off Wednesday at both Salvation Army AND Value Village. I scrounged up 3 bustiers and 2 onesies, one of the the onesies being Christian Dior. One of the bustiers I used for my most recent DIY and yes it's finished! It will make an appearance soon.
FYI, it's peach not pink. I swear.

The great thing about high-waisted is you can wear the most miniscule top and still pull it off. The reviews for these jeans were conveniently not available when I purchased them and are pretty accurate. Even with their fits-more-likea-legging-than jeans, I've been wearing them nonstop.
Stopped by Saks to check out their sale and made the mistake of trying on the Gucci Lucy platforms. They really are freaking spectacular in person and even better worn. It's like 5 pounds, 6 inches of luxurious, ridiculous goodness on each foot. I swear my heart soared.