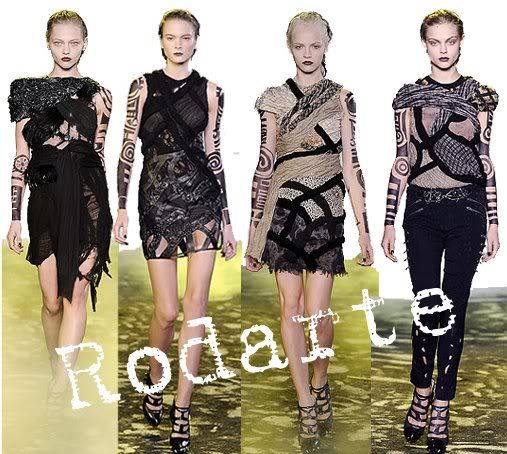 What I love most about Rodarte is that when other designers are erring on the side of practicality due to the economic downturn, they obviously are anything BUT practical.
I think their Spring collection is so imaginatively brilliant (as are their other collection concepts) but I could definitely see a fashion-don't if put in the wrong hands. Which is why I preferred their more 'structured' pieces (especially the one with leather cage accents) as opposed to the other pieces in the collection that were too 'cat tore up your dress' looking.
And let's face it, anything with tribal tattoos is just cool in my book.
In my personal style, I don't do cute and I definitely don't do pink. So it definitely takes something special to make me give it a second thought. So playful and so vibrant. The rest of the collection is a little bit mod and the polka dots almost make it feel a little bit pin-up-y. I'm in LOVE with the short, playful silhouettes.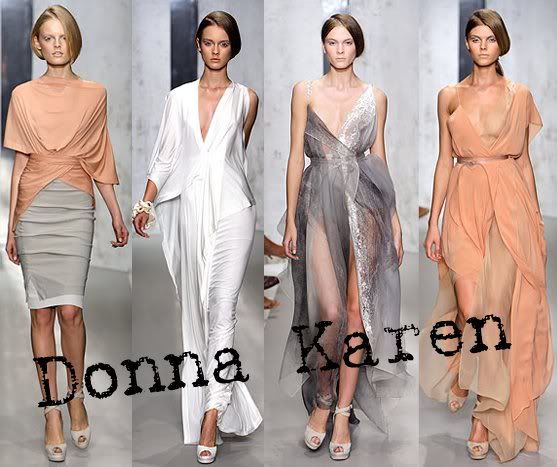 When I think of Donna Karen, I can't help but think of middle aged women in professional (but stylish) business suits. But her Spring collection has me catching my breathe. Obviously my favorite have GOT to be the wispy floor-length gowns that totally float on clouds. Damn, that woman can DRAPE! I'm also loving the idea of a nude chiffon accent.
photo credits: style.com
Disclaimer: all collages are made by foureyedfun. If you use, please give credit where its due. Thank you.