(Goodwill sequin jacket, BCBG tank, UO jeans, Payless boots, MJ and Chloe necklace)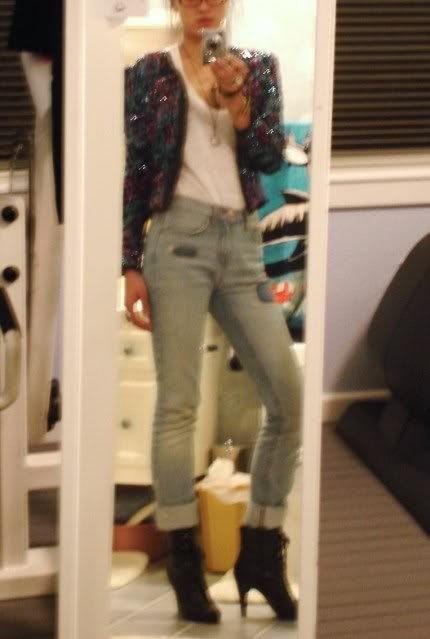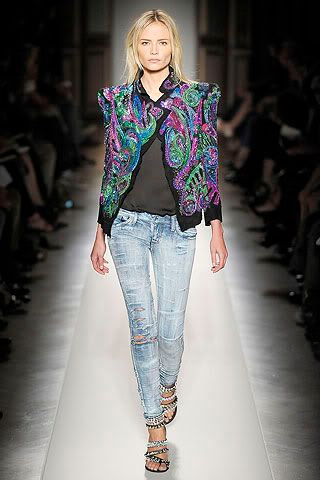 Balmain 09 RTW via style.com
I swear I only picked this jacket up because I'm totally into a sequin phase at this moment. I had no idea of the Balmain-esque potential until I got home and tried it on again. You can be sure I'll be stuffing these shoulders as soon as I get the chance! $9.99 sure goes a long way.

I wore this to watch Crank: High Voltage at the theaters. The only thing I felt after watching was: a) throwing up and b) snatching Johnny Vang's outfit. He had the sickest harem pants and olive tank combo. I could not for the life of me find a picture of him online which is quite sad considering he's got a major supporting role. Highly eccentric directing nonetheless.
Every blogger these days seems to have a highly skilled photography boyfriend or friend. I am not equipped with either so you'll just have to take what I give you and like it. Besides, I think my shark towel really gives the photo a little something extra, don't you?

You know you've got blogging syndrome when you dream of conversating with Erin Wasson. Seriously?
I haven't been able to get to that tutorial. I promise I'll get to it as soon as I can!
For the intellectually curious, I used 1/4 and 1/2 inch gold dome studs from studsandspikes.com on the blazer.